Dad made me this neat hanging bassinet. Or woven rigid hammock. Or strung bed dangling from the rafters. I dunno, neither does he, but he snaffled the idea offa his buddy Jim Fulton, a man of infinite ingenuity. Go buy some of his CDs, we've been singin' along to the free stuff on the site for about a fortnight now, but may have to slip the chap some sultanas of swing for the pleasure of getting the lot.
Anyhow, to cut a long story short, Dad got the following materials:
4x three foot branches from a tree.
50m of twine
Three bundles of niiice wool for the mattress
One anchor swivel (eBay sell them for a pittance)
One spring scale, with hook (there are loads of these on eBay, too for diddly)
11x nails (this is really going to set you back!)
First he sawed some branches into straights, nailed, then lashed them together like so: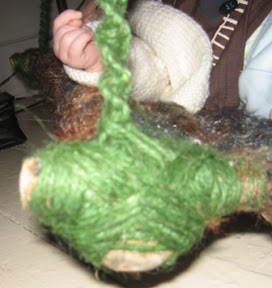 So that's pretty cool, and easy enough to do. Next he started on the weaving. This involves looping the niiice wool along the long edge with 2mm between each loop, and keeping it slightly loose once you get to the end. Kind of tight, certainly not baggy, but not rigidly taught either. Then with a knitting needle go back and forth making loops around the short side and going up and under each of the long side loops, alternating each turn. Once you're done, it ought to look a little like this: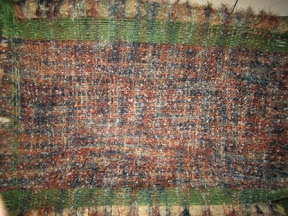 Those dark green ones are to stop my fingers getting stuck in the wool, and they only go through the top layer of the wool up to the wood. Your mattress should be pretty much done now, Tighten all the loops real good so it's firm and comfortable. Then it's time to add the ropes from each corner to a central rope to the swivel. Dad took a leaf from his macrame skills for this and did a twisting knot, but don't go overboard, it takes a while to do that.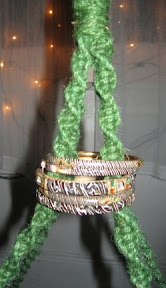 Anyhow, tie your rope to each corner, then join them at the top, and tie them firmly together, with a fifth rope leading up from that knot through the swivel and back down. It ought to look something like the image on the left. Except without the sparkly bracelets and twinkling lights in the background, though you can add any garnish you like, really it's up to you.
So then we need to attach the swivel to the springing fishing scale with hook. THe fish scale had a ring at the top, so Dad just made a bunch of loops from that ring to the ring on the swivel, and then secured the two with a 'hangman's noose' type arrangement around the loops. There are so many loops in this that Dad was nearly driven loopy himself. Anyhow, you ought to have the whole hammock done by now, it's just a matter of hanging it from somewhere. We've a bay window in the lounge so Dad banged a bunch of nails in to the wall around the dado bar, then looped a bunch of rope between them so the hook of the fishing scales hangs of it in the centre and I've got loads of room to swing on. He also got a chin-up bar that tightens, through a screw action, into an open doorframe. This makes the whole hammock thing quite portable – it can be used in any door, though the drawback here is that the door can't be used for getting in and out of a room very easily. So finally, here's the hammock in action, featuring me swinging, laughing, noodling, gurgling, tra-la-la-la-la-la-la-la-la…..laa-la-la….
So anyhow, that's where I lie all day for those who are interested. I dig that tune, too. It's from Sweden, a band called I'm from Barcelona. Catchy stuff huh?